My favorite part of the holiday season is the holiday gift sets! Whether its for gift giving or for yourself, these sets are always a great deal and gives you a chance to try out multiple products from a brand. Here's a quick run down of some gift sets I highly recommend for you to gift or for you to try out yourself broken down into different price ranges so it fits any budget!
fresh best of beauty bundle, $66
This is the perfect beginner face set to introduce you to fresh skin products. It comes with some of their most famous, talked about products including their soy face cleanser, black tea eye cream, vitamin nectar mask, lotus youth face cream and sugar lip treatment.  Best of all is the do it yourself coloring packaging – with two color pencils you can feel like a kid again! 
stila star-studded eight stay all day liquid lipstick set, $59
If you didn't already know, stila makes my favorite liquid lipsficks so this set of 8 colors is a definite must have this season. This is great to get to try an amazing range of different colours.
Laura Mercier Les Petits Souffles Body Creme Collection, $80
Treat your body with these unbelievable Laura Mercier cremes. They are incredibly smooth and fragrant, with mini sizes of different scents this will keep your skin feeling fresh, smooth and smelling delicious all year long.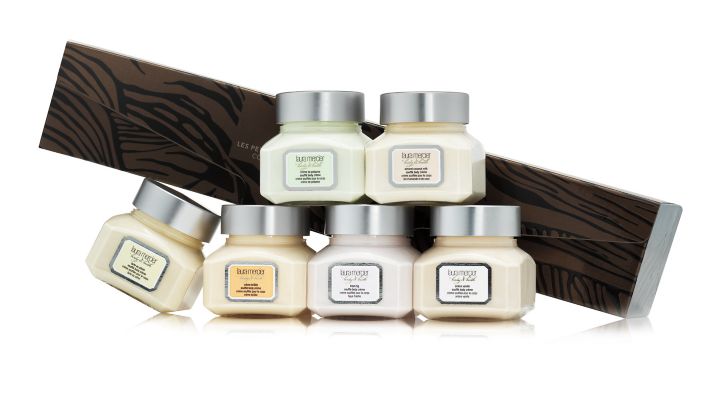 Dermalogica Age Smart Daily Defenders, $95
Stay hydrated, stay young with this Dermalogica holiday set. It is a perfect package with their Skin Resurfacing cleanser, Antioxidant hydrating spray and Dynamic Skin Recovery cream with SPF 50 – so necessary for your skin all year long.
fresh sugar lip prep 'n' paint, $47
Fresh is most well known for their lip products so this gift set is perfect for everyone to treat, repair your chapped dry lips. The set includes the fresh sugar lip scrum, lip serum, lip treatments and lip balm. This packaging comes with color pencils and a separate coloring sheet- like how fun is that?
Korres Greek Beauty Sleep, $39
What's better than a bouquet of roses? Wild roses in your skin care. Korres Wild Rose line of products are absolutely amazing with brightening effects and a fresh rose fragrance.
stila written in the stars glitter & glow eyeshadow set, $33
Often referred to as the greatest eye shadow product in the market, the stila glitter and glow eye shadows are the best way to add glam to any eye look with the easiest application. This set has a great collection of three different shades that will have you shining this holiday season!
Fresh Body Care Besties, $50
Get your shower caddy ready for some sugar! This fresh gift sets comes with their fan favourite brown sugar body polish that will exfoliate and keep your skin extra soft and sweet 😉 The set also comes with their Grapefruit bath& shower gel and body lotion.
Conair Reflections LED Lighted Collection Mirror, $39
Okay so I know this isn't a gift set but it is a definite must have. With the lack of natural day light in the winter time it is essential to have a light up mirror on your vanity to help your makeup application.
Smashbox Drawm In. Decked Out, Travel Primer Set $28
If you aren't using primers in your makeup routine today is the day to change. Smashbox is the OG in the primer game so this travel set is an absolute must have to try out the three most used & talked about primers. This travel set comes with the original fan favourite oil free primer along with the equally talked about pore minizing primer and primer water.
Alterna Haircare Anti Aging Travel Kit, $15
Give the gift of great hair with Alterna Caviar Anti-Aging set – how luxurious does that sound? Did I mention their brand ambassador is Andrew Fitzsimmons – hairstylist to the Kardashians? Start the new year with healthy, shiny hair!
imPRESS Salon Secrets Nail Art Starter Kit by KISS, $16.99
Festival nail art, glitter and studs for the nail lovers in your life. This starter kit is equipped with everything you need to achieve the most festive, sparkly manicure.
fresh Perfect Pink lips, $23
Get the healthiest lips with this fresh perfect pink lip set. This set comes with their famous Sugar Rose balm and Sugar cream lip treatment that will make sure you never have cracked lips all winter long.
MAC Snow Ball Kit/ Prep + Prime Fix+ , $24
Makeup is never complete without a couple spritz of Fix+. Not only does it hydrate your skin, it helps set your makeup to last all day,  melt all the powders to leave your makeup look seamless and blended and helps to intensify all glitter products. This set gives you travel sizes of three different scents (coconut, lavender and rose).
Dermablend Professional Holiday Set, $10
This Dermablend holiday set is a perfect add on to any gift with their long wear makeup remover cream and setting powder (my absolute favorite). 
Burt's Bees Mistetoe Kiss, $9.99
Have kissable, soft lips all winter long with the perfect set of three Burt's Bees lip balms that makes a great stocking stuffer for everyone.
imPRESS Gel Manicure, $9.99
The easiest, fastest most chic manicures on the market. These stick on gel manicures take minutes to put on and last the same time as any other manicure. Mix and match with the numerous different designs to have the best manicures!
Sephora Collection Snow-fetti mini sponge set, $10
This ornament shaped gift set comes with 5 mini sponges with a variety of colors and shapes. This is a great addition to every makeup lover and really brightens up your makeup table (or Christmas tree).
Which sets are you excited to pick up this holiday season?
Stay connected with me on Instagram @almostfashionable & Facebook.com/almostfashionable